Search
The Search area allows users to quickly locate necessary projects in Tracker.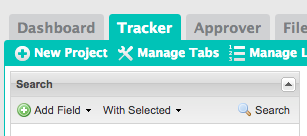 The Search area of the Tracker Panel allows users to determine how they wish to search for projects in the Tracker application. Every field located on the Project and Component Detail tabs of Tracker can be selected for search (with the exception of Date fields), and users are able to add and remove fields as needed.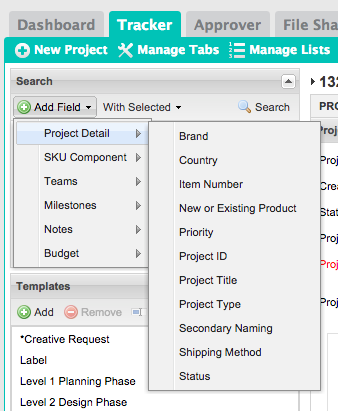 Though users can set their own criteria for performing searches, Tracker defaults to a search against the Status and Project Title fields. The system will retain the last search performed when a user exits and re-logs into the system. There is no limit to the amount of fields a user can include in the search.
The Search Results are displayed in the familiar hierarchy layout. Highlight and click to access a project from the list.
Click the RED minus icon to remove a filter option.  Click Search to reload Search Results.