Project Actions
The top right corner of the project window features 3 action menus. 
Project Menu showcases options for the entire project and all data included in each tab.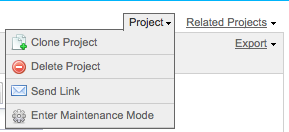 Clone Project - The Clone Project feature in Tracker allows users to duplicate existing Projects in the system, providing a fast way to create multiple projects that contain similar information.
Delete Project - Users with necessary privileges are able to delete projects from the Tracker system. WBD recommends this privilege (controlled by the ACL system) be granted on a limited basis. Project records deleted from the system can NOT be recovered.
Send Link - The Send Notification link in the Actions area of the Tracker Panel allows users to send manual notifications (as opposed to the automatic system notifications) from Tracker that contains a link to the project currently being viewed.
Maintenance Mode - This options allows a user (administrator) to secretly edit the project - advancing status, changing data, updating teams - all project email notifications are placed on hold while a project is in maintenance mode.
Related Jobs - Jobs that are related will show as a link list in this menu.  This gives a user quick access to those jobs and also a way to manage multiple jobs from one view.  User relate and unrelate jobs based on their set of permissions.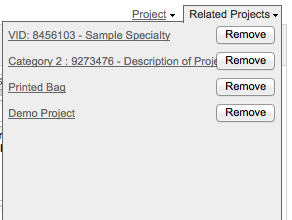 Export Screen Data - Each tab has an Export dropdown menu.  This gives you the option to download the data on screen to another workable format. 
*Not all options available on all tabs.