Search/Browse
The Search/Browse page will display approvals in the ERA system. Narrowing down search criteria is performed using the options located in the menu bar to the left of the page.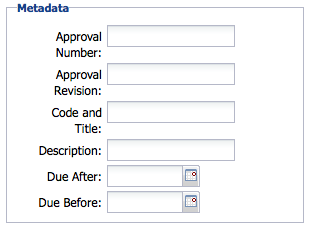 Metadata - Data fields found on the New Approval page in ERA.  Users can enter specific approval data into these fields to help narrow down searches.  The actual fields that are displayed in this section of the Search/Browse feature may vary from site to site depending on the customizations applied for individual customers.
The Due After and Due Before fields can be used to further narrow searches based on Approval Due Dates.  Dates may be manually entered (using the MM/DD/YYYY format), or selected from the available calendar.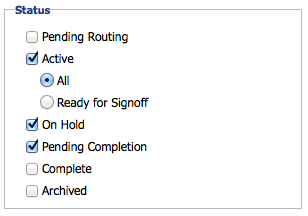 Status - Provides multiple checkboxes designating any possible Status an approval may have in ERA.  Users may select none, one, or multiple Status entries for a search.

My Role.  The My Role area also uses checkboxes for narrowing down searches in ERA.  Here users can choose to view only those approvals on which they are specific team members: Reviewer, Coordinator and Initiator.  As with the Status section, multiple or none of the checkboxes may be selected for a search.
Save a Search
If you search by the same criteria, choose to Save your search options. 
Enter all criteria in the Metadata, Status, and/or My Role fields for the search you perform.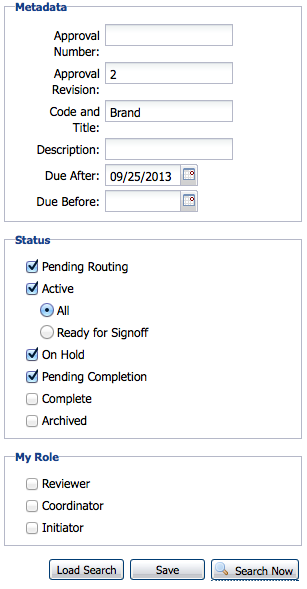 Then click Save instead of Search Now. 

Enter the name of your search in the dropdown window. Then click SAVE again.
Saved Searches
Searches saved by a user can be quickly loaded to provide fast access to vital approvals within ERA.

To load a saved Search, select the Load Search button at the bottom of the Search column.
A new drop-down field will display under the row of buttons. Select a Search to load from the drop-down menu and select the Load button.
The system will automatically display the approvals that match the criteria of the saved search.