About ERA
The ERA application includes many powerful and useful features that enable companies to quickly complete important routing projects. Select a link below to learn more information about the various features of ERA and how to utilize each within a routing approval.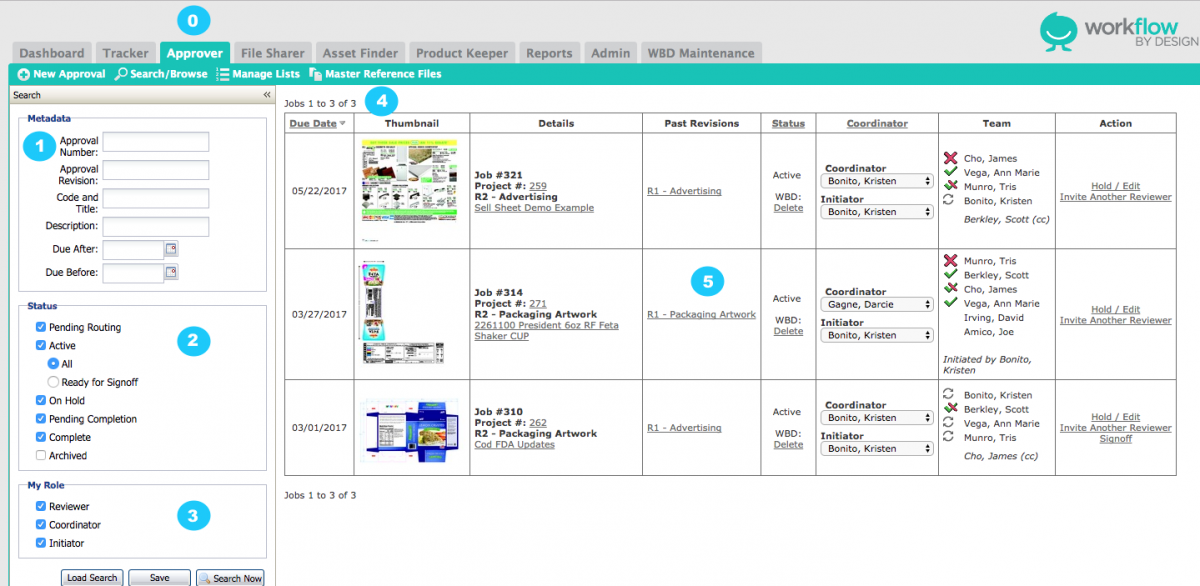 Please click the above image to enlarge.
1. Metadata
2. Status
3. My Role
4. Page Navigation
5. Job Details - Each row contains details about the approval. 
* Indicated columns that are sortable.
Due Date*- Approval must be signed off by this date.  This date can also determine the reminder notifications sent to team.
Proof Icon - Preview of the proof being routed.  Links to the approval page.
Job Data - Details about the job.  Links to the approval page and back to the Tracker project if created from the project approval tab.
Past Revisions - Links to review the last round of approvals.
Current Status* - The current state of the routing.
Coordinator/Initiator - The user the owns the job/created the approval
Approval Team - Users that must sign off on the approval.
Actions - Functions that edit the approval details, change status, advance to the next user, or invite a new user.