Project Status
From the Dashboard - we give you easy access to view all of your projects.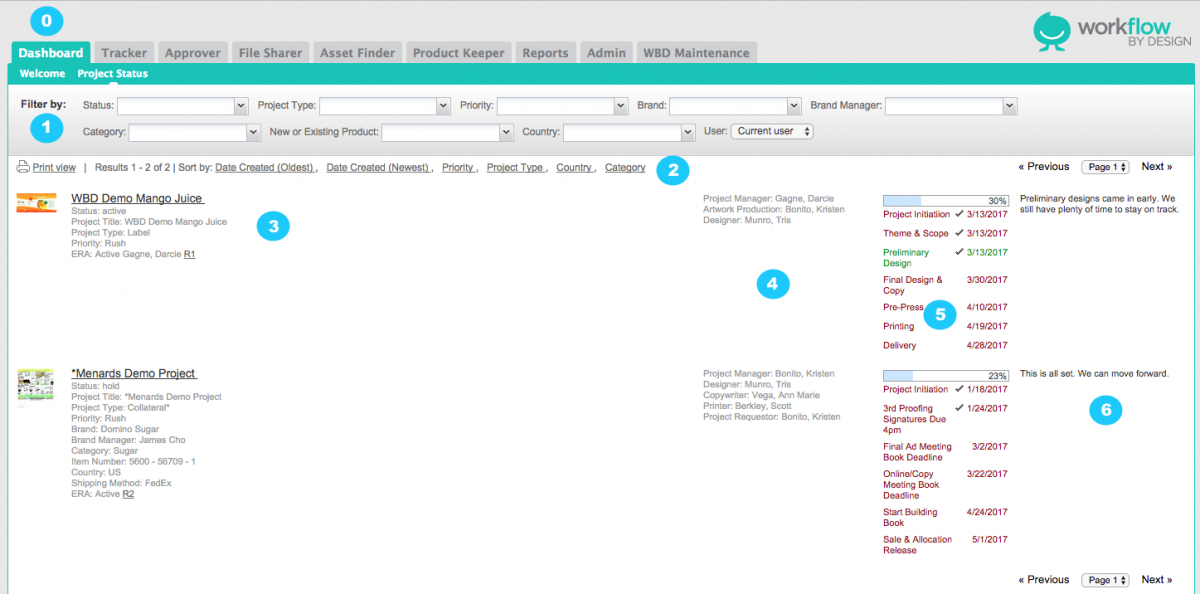 Start on Dashboard - Project Status Link from top module menu bar.
1. Filtering Options - Dropdown options from project details.  Results will filter as options are chosen.
*Options may vary by client.
2. Print - Sort - View Pages - Print View will load results in a new browser window.  The print view will also keep all links active - allowing you to continue working.  Sort gives you an extra level of reviewing the results.  *Sort options will vary by client.  Results may show on many pages.  Use navigation at top or bottom right of results.  Print View will show ALL results on scrolling page.
3. Project Link and Details - Each results shows the Project Name and basic details for that project.  The project name is a link to open that particular job.  If a document is being routed in ERA, an icon and link will show in the Project Link area.
4. Team - Team Members and their role will show in the center column.  These are the users that are able to access and participate in a project.
5. Milestones - The key dates to keep a project on time.  This view features a percentage complete as well as a simple stoplight system.  Check indicating that the milestone is complete. 
Green = On Time
Red = Late
Grey = Future Date
6. Status Notes - Last column features the most recent communication for that job.  These are notes chosen by the team within the project status tab.